Of all the genres, one could argue that Fantasy is the most open to interpretation. Typical Fantasy plots tend to involve either children or the mentally unsound (or both), and feature supporting characters like goblins, faeries, and the like. But beyond such limited conventionalities, Fantasy is what film is all about; when we walk into a theater and watch frozen images moving at 24 frames per second, watch actors reading lines from a script in manufactured rain or sunlight, we pretend for a little while that it's "real." In honor of the new film THE TROLL HUNTER, which opens today at The Loft, here are our favorite films that we deem Fantasy.
Kyle Canfield, General Manager
Willow
Alexandra Bernhardt, Floor Staff
Spirited Away
Pretty much every one of Miyazaki's movies is in the fantasy genre, and many of them are great, but Spirited Away is my pick because it really stuck with me. It has a nice mix of cool and creepy moments, it's kind of like a Japanese Alice in Wonderland. I had never been so fascinated by (or so fearful of) bathhouses until I saw this movie.
Steven Soloway, Office Manager
A Matter of Life and Death
Evan Salazar
Princess Mononoke
I admittedly don't watch many fantasy films. It's not really a genre that ever has much for me. But one of my favorite directors, Hayao Miyazaki, makes films that are, more times than not, on the fantasy tip of things. Sometimes his fantasy is a bit more subdued (like my favorite film of his, My Neighbor Totoro), but other times he embraces all of its tropes, and I think Princess Mononoke is one of his best examples of that. A girl raised by wolves, other-wordly creatures, curses, insane battle set-pieces, and a general sense of adventure lend itself to be a pretty great fantasy story. The difference between this and other fantasy films is its non-pandering emotional warmth and sense of adult intelligence. Lots of fantasy films depend on nostalgia and broad-stroke emotions, but Mononoke is a lot more nuanced. Its message of environmentalism is present in a lot of fantasy films, but its fair approach to both sides and adult treatment of these issues makes it noteworthy. It's not all black and white. Plus, the movie looks cool as hell, so there's that, too.

Also, I'd be remiss if I didn't mention The Never-Ending Story was one of my favorite flicks when I was a kid. I never got sick of that thing.
Tim Keene, Floor Staff
Northfork
Not quite a true fantasy film, but a beautiful fantasy.
J.J. Giddings, Operations Director
Forbidden Zone
Peggy Springer, Administrative Assistant
A Life Less Ordinary
This is a hard question for me, and I've decided to go with this favorite from the late nineties directed by Danny Boyle. I love watching Ewan McGregor and Cameron Diaz fall in love while Holly Hunter and Delroy Lindo work very hard to make it happen. Plus there's Stanley Tucci, Ian Holm, Dan Hedaya, Tony Shalhoub and Maury Chaykin to watch as well. The soundtrack rules, everyone has funny lines, and it's super strange, funny, and charming.
Jeff Yanc, Program Director
The Reflecting Skin
This amazingly strange, and unfortunately obscure, British gothic/horror/dark comedy/fantasy about the nightmare of childhood could probably best be described as
Days of Heaven
as directed by David Lynch after he's channeled the ghost of Ingmar Bergman. Set in the 1950s American heartland of rolling wheat fields and battered farm houses, this story of a young boy who uses his very active imagination to cope with the terrors of real life is poetic, perverse, sometimes operatic and always very unsettling. Ignored by his neurotic (and possibly dangerous) parents, the boy creates a world of his own, convincing himself that the reclusive English woman who lives next door is really a deadly vampire, and that the decomposing fetus that has suddenly appeared in the family barn is really his murdered best friend come back to Earth disguised as an angel.
And when a pack of sinister leather boys in a black '57 Chevy start cruising the countryside and kidnapping young boys for evil purposes, it REALLY starts to get weird. It also stars a young Viggo Mortensen as the kid's older brother, so why this great, bizarre movie is still so underrated remains a mystery to me.
If you liked Viggo in
Lord of the Rings
, why not check it out
?
Pedro Robles, Assistant Manager
Pan's Labyrinth
My all time favorite fantasy film is El Laberinto del Fauno. This great tale wins my heart for the reason that I would have enjoyed watching it at any age. As a child, I would have been hypnotized by the fantastic and terrifying characters. As an adult, the mixture of history, gore and the bending of reality just sings a song of love to my heart. Every shot in it is incredibly beautiful and stands up to repeat viewings. Guillermo del Toro, I love you.
Anthony Cutrone, Floor Staff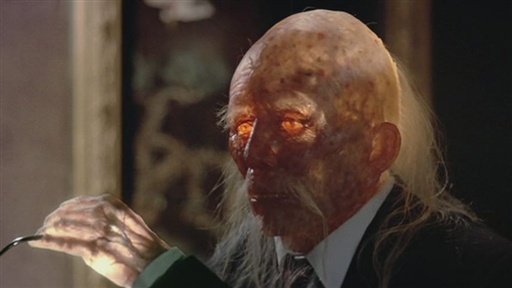 Big Trouble in Little China
Zach Breneman, Business Manager
Akira Kurosawa's Dreams
As a kid, fantasy was by far my favorite genre. The obvious escapism of the fantastical is probably what did it, but I was also attracted to the danger implicit in any fantasy story (the donkey scene in Pinocchio and the pink elephant scene in Dumbo fueled my dreams for years). My love for surrealism was also most likely founded here. Although I watched the films of Terry Gilliam more (Time Bandits, The Adventures of Baron Munchausen), the first time I saw Akira Kurosawa's Dreams was personally revolutionary on a couple of levels--it was my first foreign film, my first non-linear film, and it terrified me like nothing else I'd ever seen. But what scars us sticks with us. I've only seen the film twice, but its images are forever seared into my cerebral cortex.
THE TROLL HUNTER opens Friday, July 22nd at The Loft, and plays daily at 10PM.